Garage Door Repairs
In Northwest Arkansas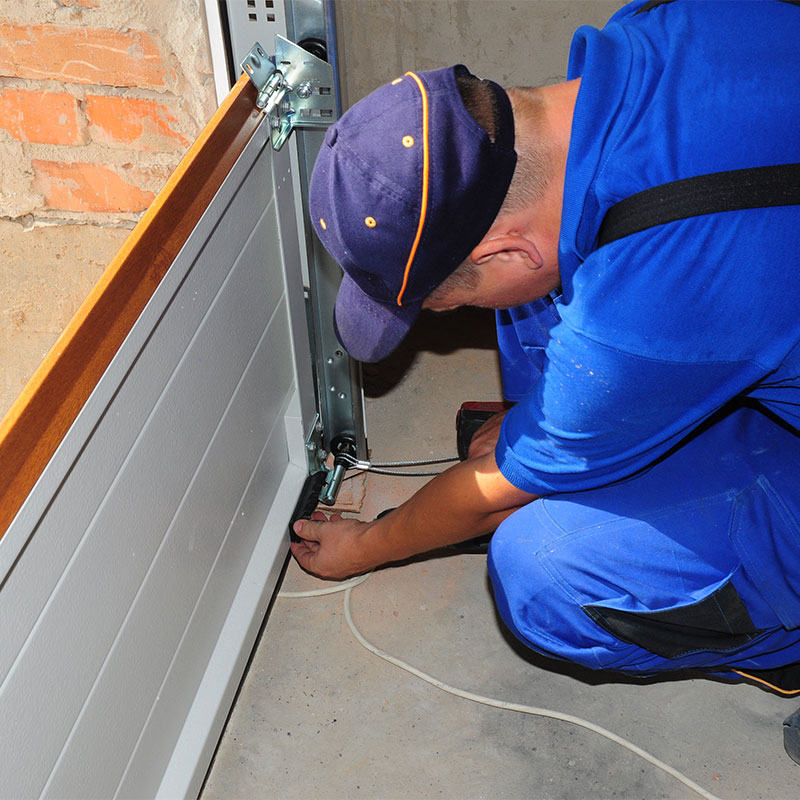 Quick, efficient, and reliable service.
Our Services
Garage Doors and More will send professionals to handle all garage door repairs in Northwest Arkansas. We specialize in:
24/7 Emergency Services
Broken Springs
Bent Tracks
Damaged Sections
Crooked or Falling Doors
Garage Door Repair / Opener Repair
Garage Door Installation
Install Outside Keypads, Remotes, and MyQ Smartphone Services
Preventive Maintenance
Replace Weather Trim and Bottom Seal
Residential and commercial
24/7 Emergency Services
We offer emergency service repairs 24 hours a day, 7 days a week.  Call us at 479-250-2069 or email us at info@garagedoorsmore.com.
Broken Garage Door Spring
One of the most common repairs required on a garage door is spring replacement. These springs come in varying sizes and act as a balance, lifting most of the garage door weight. This allows the door to easily open and close manually or with the assistance of an opener.
Bent Tracks
The tracks perform a vital function in any garage door system. If the tracks are only slightly bent or damaged, they can keep your garage door from opening all the way or even at all.
Damaged Sections
Replacing a damaged section of your garage door is appropriate when a it suffers structural damage. Sometimes this happens when a car is driven into a door at a low speed. It can also be damaged by smaller moving objects, like riding lawn mowers.
Crooked or Falling Door
A crooked or falling garage door is irritating at best, and a security issue at worst. If the door isn't sitting in the frame right, you'll need to repair it as soon as possible. We can help identify the cause and get it back in place.
Garage Door Repair / Garage Door Opener Repair
Not only can Garage Doors & More replace broken garage door springs but also just about any part on your garage door. We also repair and replace garage door openers. Call us (479) 250-2069 or contact us online here.
Garage Doors & More can repair a variety of garage door/opener vendors like Pella, Amarr, Haas, Stanley, Door Link, LiftMaster, Clopay, Overhead Door, CHI, Genie, Chamberlain, Sears, GADCO, Hormann, Wayne Dalton, Linear, Raynor, Windsor and MACC.
Garage Door Installation
We offer multiple top brand overhead garage doors. These brands have many different designs, styles, colors, and materials. Call today and we will help you design the right garage door for your home or business.
We also sell and install Liftmaster motors. We can help you decide what model offers the strength, functions, and options you need. Wall mounted, quiet belt driven, battery backup, Liftmaster has it all.
Install Outside Keypads, Remotes, and MyQ Smartphone Services
Garage Doors & More can install wireless keypads outside of your garage or program your remotes. Get the added convenience of being able to open your garage door without using a remote control or key.
Remotes can operate multiple garage door openers eliminating the need of multiple remotes on your vehicle visor.
We also provide remotes for all brands. Liftmaster provides a MyQ system that allows a customer to operate or receive details from their mobile devices.
Replace Weather Trim and Bottom Seal
Garage Doors & More will come out and replace the weatherized trim around the door and the rubber on the bottom of the door. The weather trim is to help seal the door from the outside elements. The bottom seal is needed to create a tight seal across the bottom. A threshold can be installed in cases of heavy water intrusion.
Services – winterize your garage and garage doors
Contact Garage Doors & More at 479-250-2069 for an appointment. We provide free estimates on new products or service work.
Garage Preventative Maintenance Program
We encourage you to have your garage door system professionally inspected. These inspections are normally performed based on the individual customer's needs quarterly, semi-annually or annually.
Services – Garage Door Repair and Preventive Maintenance
Your inspection from Garage Doors & More will include:
Careful inspection and any necessary adjustments to the counterbalance system including springs, bearings, cables and attached hardware.
Careful inspection and necessary adjustments of all fasteners, hinges, top brackets, bottom brackets, tracks and rollers.
Lubrication of all moving door parts.
Careful inspection of your electric operator, test the reversing mechanism including necessary adjustments to limit switches and lubrication of appropriate parts.
Recommendations on how to use your existing door more safely.
A written recommendation will be given for any further repairs needed prior to additional work being completed.
To help prevent future problems, have your doors and electric operators inspected regularly.
"*" indicates required fields